Nicolas Berthier
In the coming months, Unimold Asia will be attending plastic exhibitions and trade fairs in France and Europe. We will be delighted to meet you during these particular events. These are great occasions to forge new relationships and to (re)introduce our range of services and technologies.
Our next rendezvous, the inevitable Midest and the APS Meetings!
Unimold Asia at Midest Lyon, 5-8 March 2019 | Booth 6J158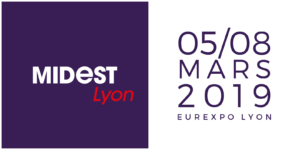 For this coming edition, the global show for all industrial subcontracting know-how will be staged from 5th to 8th March 2019 at the Eurexpo Exhibition Centre, Lyon. Part of the Global Industries, the Midest represents 38 countries and attracts more than 1200 exhibitors and 22 000 visitors.
Interested in tooling, molds or prototypes? You can meet Unimold Asia and Prototech Asia team at Midest 2019, booth 6J158! For more information, please visit: https://www.midest.com. If you want to organize a meeting with our booth team, you can contact us in advance.
Unimold Asia at APS Meetings, 19-20 March 2019
Unimold Asia, through its rapid prototyping entity Prototech Asia, will again this year participate in APS Meetings.

The 7th edition of the business convention for Additive Manufacturing, 3D Printing, Rapid Prototyping and product Development will take place at Espace Tête D'or in Lyon, the 19 and 20th or March. With more than 345 participants from 13th countries, APS Meetings is a unique way to connect with various sectors and to engage in new collaborations. For more information, please visit: http://www.apsmeetings.com.