Nicolas Berthier
The automation and robotization of the injection workshops require the use of end-of-arm tools (grippers or robot hands) adapted to your product and to your production environment (products, injection machines, robots, conveyor etc.). Used in different fields and industries they allow to seize parts in order to carry out different handling and thus to gain in quality and cadence.
Functioning and importance of the end-of-arm tooling
The gripping hand will be designed according to your environment, processes and types of parts to be injected. It will be specifically assembled to integrate to the arm of your robot. The latter is programmed according to the needs of your productions. Equipped with suction cups and different kinds of pliers the robot hand will come to seize the part.
For example when injected out of the mold in order to transfer it to the next operation. In the case of overmolding the accuracy of the tool is even more important as the hand will position the insert directly into the mold.
End-of-arm tooling: application examples
End-of-arm tooling and plastic overmolding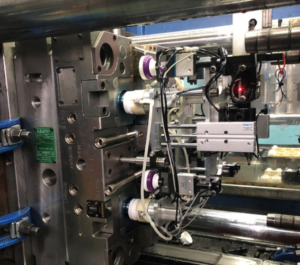 It enables seizing the injected finished parts and the positioning of a plastic insert for the next injection cycle.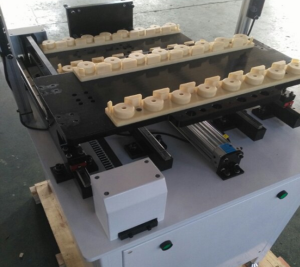 Load table and plastic inserts to overmold, it works with the above end-of-arm. It allows receiving 8 moldings distributed on two levels. The loading of the inserts is possible in hidden time by an operator.
Sprue cutting et diameter drilling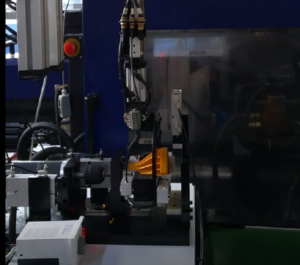 This robot hand allows seizing the part from the mold, cutting sprue and drilling a diameter on a gauge at the location of the injection spot.
End-of-arm-tooling supplier in China
Mold maker 3.0, Unimlold Asia strives to provide you with tailor-made, ready-to-use solutions for plastic injection molding. In addition to your plastic injection mold, we provide various 'plus' services to facilitate your industrialization. As such, we manufacture in our factory in China your gripping hands for multi-axis robots, adapted to your product and your means of production.
One of the main advantages of our approach is to facilitate the launch your tools. In addition to the reliability and precision of our grippers, you benefit from a unique contact for the manufacture of your mold and your gripping hand. This results in a noticeable time-saving, better accuracy and flexibility. We also manufacture your gripping tools apart from mold manufacturing.
Do not hesitate to contact us to find out more about our tailor-made end-of-arm tooling solutions.